January 26th, 2011 § 3 Comments
I'm really excited on how are the things going with SilverlightShow. We started about 3.5 years ago and only for the last year we have 60%+ growth of the visits. We got some really valuable persons for the community on board like Cigdem Patlak (Crocus Girl), Gill Cleeren, Brian Noyes, Peter Kuhn and many others authoring articles, shooting videos, conducting free webinars. We also started a series of green contests that target Silverlight developers all over the world. We manage to get great prizes for the winners like

MIX passes, cover travel and accommodation expenses, give
Telerik licenses, etc. This is all great and it is thrilling to be part of this community.
One thing that I believe all of us are missing is Forums. We all know how important this is. We all need to ask questions, discuss on different topics with experienced guys, have someone solve our problems

, etc. Guess what – we got forums in our new release! Curious how they would look like? Ok, let me share something: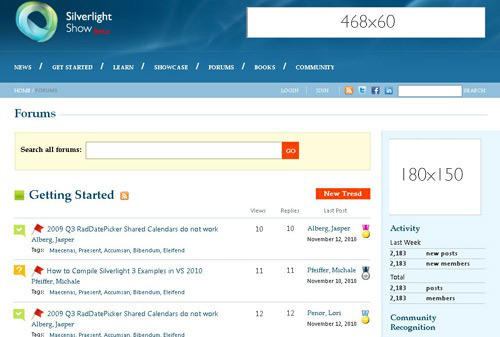 (click for full image)
Looks nice, huh?

We got many new features to help you stay up to date, experience the site in an easier way, we organized all our content better, etc. Of course, you will judge whether you like it or not, but we tried as much as we can to provide you with a better experience. What else we got? I'll keep that a secret for now

We will need some beta testers to ensure we meet your expectations. If you are willing to provide us with some help just drop me an email (estoychev at silverlightshow net) and I'll include you in our list for early access.
Be the first to like this post.
§ 3 Responses to SilverlightShow comes brand new in a month